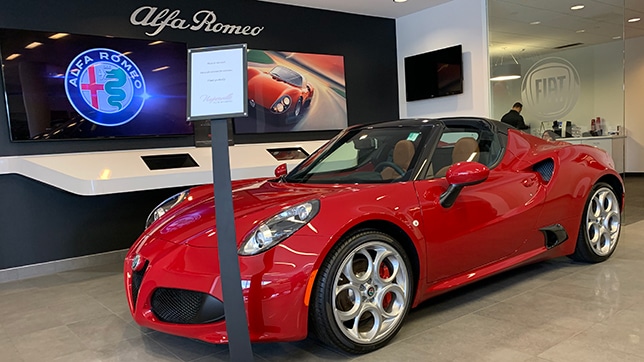 Ashenhurst Partner Group, LLC has been furnishing the automotive industry for multiple brands. Both domestic and import… with objectives clearly defined, we develop your ideas into thoughtful solutions. We realize your vision as the dealer while satisfying the branding requirements of the automaker at a substantial savings.
Amazon might be taking away brick and mortar department stores one by one but, physically shopping in the car dealership is still alive and well.
Quite simply, it is the functionality of the design today that is different than a decade ago. A user-friendly Wi-Fi lounge area with stylish/comfortable seating along with a sophisticated café bistro is the absolute best use of space while keeping your customer happy while having a positive experience. The showroom is designed to be a simple, yet elegant space, allowing your vehicles to always be the main attraction.
Featured Auto Dealership Projects
Naperville Italian Motorworks Project
Ashenhurst Partner Group LLC has furnished three dealerships with owner Tony Blake.
We worked with Tony on his Tyson Motor Chrysler, Jeep, Ram dealership in Shorewood IL, KIA dealership in Bradley IL and, Tony Blake's Fiat/Maserati import dealership in Naperville. This dealership on Ogden Avenue sells some of the most desirable exotic and luxury cars in the Chicago Metropolitan area. Nothing makes quite an impression like the bold styling of a luxurious new or pre-owned Maserati or Alfa Romeo car.
Over the years Tony Blake has been wonderful to work with. Our relationship to date is that when Tony decides to acquire another type of dealership, APG will be on his call back list.
Denny Guest's South Oaks Dodge Project
Denny Guest's South Oaks Dodge in Matteson IL, owns a plethora of fine automotive art by one of North America's premier automotive artists, Michael Irvine.
APG specified and purchased the furniture in the showroom and waiting area for South Oaks Dodge. APG provided drawings to Kennedy Konstruction for the Italian tile design in the showroom. But more importantly, APG designed this beautiful collage of vintage and modern muscle and sports cars in hand drawn, hand painted, high impact, vibrant colors.
This fabulous Denny Guest collection of fine automotive art lines the wall leading from the showroom into the customer lounge and coffee bistro.
Lamborghini Dealership Project
Best Grand Opening EVER!
This grand opening event was by invitation only and hosted by Bill Nuccio Sr. and his lovely wife Linda. Mr. and Mrs. Nuccio donated the money that the tickets generated to St. Jude Children's Research Hospital. This spectacular event had live entertainment, martini bar, fashion show and gourmet appetizers, that was mostly provided by generous vendors within Bill's circle of friends.
My husband Mark was photographer for the evening. He was pleasantly distracted by the multi-million dollar inventory of Lamborghini cars. This is why there are not any pictures of the conference room or private office furniture that APG provided. Although, there was a picture of the Barcelona chairs and coffee table by Gordon International in the center of the showroom. We remember this elegant evening affectionately, as it was the best grand opening party ever!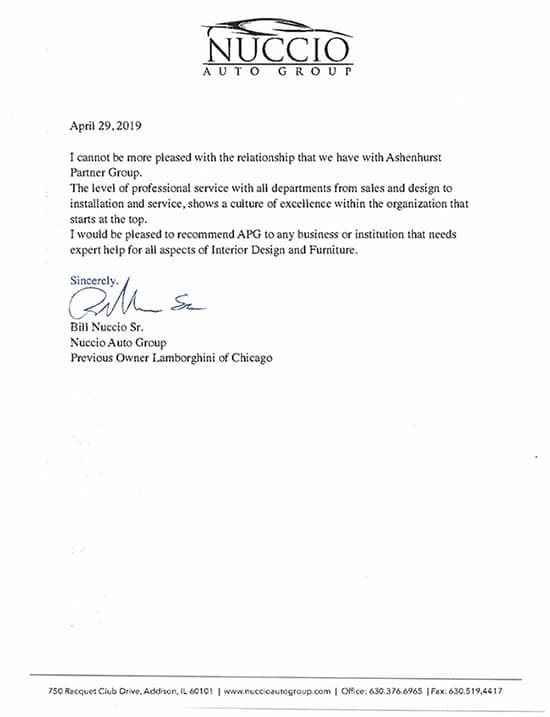 Our Auto Dealership Projects
The following is a partial list of Automobile Dealerships where Ashenhurst Partner Group, LLC was contracted for Design, Product Specification, Space Planning, Furniture and Flooring purchases. We had the distinct pleasure to collaborate closely with the owner(s), board members craftsman, manufacturers and construction professionals.
Fox Valley Ford: Aurora, IL
Kia of Bradley: Bradley, IL
Tom Peck Ford: Huntley, IL
Tyson Motors: Shorewood, IL
Denny Guest's South Oaks Dodge: Matteson, IL
Lamborghini Chicago: Naperville, IL
Naperville Italian Autos: Naperville, IL
Ogden Lincoln Mercury: Naperville, IL
Village Buick GMC: Naperville, IL
"The reward of work well done is the opportunity to do more work"
Jonas Salk